EtherShare Admin allows both Mac and Windows volumes and printers configuration in just one dialog window respectively:
New text windows allow improved key navigation within the document, e.g. jump to the end of line, etc.
The Find support enables the user to apply a full-text search within the document, e.g. the content of the "printcap" file
Live scrolling makes browsing through text documents, e.g. the license or versions file, more comfortable
This all makes the new EtherShare Admin much faster than its predecessors
EtherShare Print Spooler (EtherShare Admin)
EtherShare Admin has now two more printer input options. This allows you to define printer names for PAP, SMB, and also TCP/IP SLP Printers (see 2 in the figure below).
The "papsrv" print spooler works as the master PAP server for all EtherShare printer queues. When it comes to changes on printer settings, e.g. removing a printer queue from the server, no restart-pap is required. All changes can be done "on-the-fly" and take effect immediately. Of course, print jobs that are currently processed are not affected – they finish with the old settings.
The following printer (output) queues are supported by EtherShare:
"AppleTalk" PAP spooling
"TCP/IP" spooling (now also for non-PostScript printers; see 3 in the figure below)
"Remote LPR" spooling (now also for non-PostScript printers; see 3 in the figure below)
"Shared Memory" spooling
"Print To Disk" spooling (now also for non-PostScript printers; see 3 in the figure below)
"Balance Queue" spooling
"Hold Queue" spooling
"Print Preview" spooling
"Create PDF" spooling

New:

"TCP/IP SLP" printer spooling

New:

"Windows SMB" spooling (now also for non-PostScript printers; see 3 in the figure below)
Note: This service is optional via HELIOS PCShare 3.1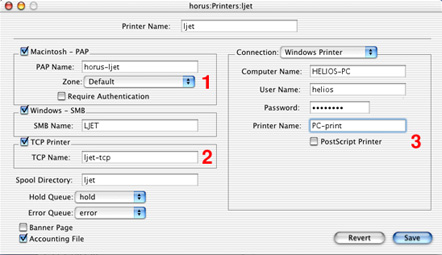 EtherShare Admin "Printers" (Windows Printer) dialog window
New:
"Clone Queue" spooling (duplicates jobs into multiple queues)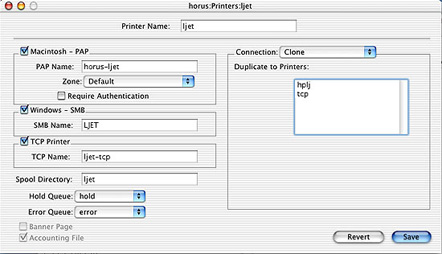 EtherShare Admin "Printers" (Clone) dialog window
New:
"Time Queue" spooling (specify printing times)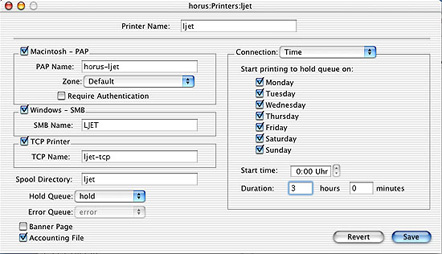 EtherShare Admin "Printers" (Time) dialog window
It is also possible to
Define different zones for the Mac PAP printers (see 1 in the figure above)
Print to Windows desktop PC printers (optional via PCShare)
Support non-PostScript printers
Define a notify script for "Print To Disk", "Print Preview", and "Create PDF" queues
The following new (input) protocols are supported:
TCP/IP-Stream print spooling support
TCP/IP SLP Printer spooling (same features as PAP, but over TCP/IP)
HELIOS LanTest 3 native for Mac OS X and Mac OS 9
HELIOS LanTest is a professional tool for network administrators, other software vendors, and 3rd party developers to test and measure performance of AppleShare services. It offers detailed Mac network evaluations for file and record locking as well as for many typical file system operations. LanTest results can be used for finding bottlenecks, for troubleshooting, or just for maintenance purposes.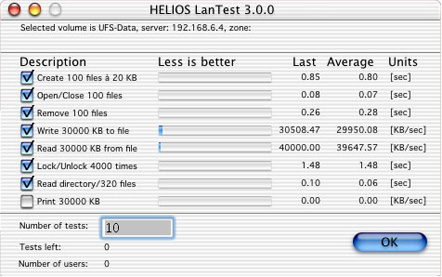 HELIOS LanTest
*** The above test results have been benchmarked from a single Mac OS X client to a HELIOS EtherShare server on Mac OS X using a Gigabit network.
Desktop tools
Unicode file name conversion between different volume encodings, e.g. converting one - perhaps older - EtherShare volume which might be ":hex MacRoman"-coded to another one which is "UTF-8"-coded:

Example:
dt mv /data/es_old/<file name> /data/es_new
"locktable" tool
Displays all open files (devices, inodes, file names)
Displays all open modes (exclusive, shared, etc.)
Displays all record locks, etc.
Convert home directories to UTF-8
HELIOS has developed a script to convert EtherShare home directories using the old ":hex" EtherShare format to the HELIOS UTF-8 Unicode representation. The migration to UTF-8 of EtherShare volumes was already supported in the latest EtherShare version. This feature allows switching completely to UTF-8.
64-bit file offset support (for all applications)
The EtherShare server now allows file sizes up to 8.3 million TB (64-bit). The old 32-bit support can only handle files no larger than 2 GB.
E.g.: "papsrv", "dt" tools, etc.
A newer AFP protocol with 64-bit on Mac OS X is planned for the future
Password security
The AFP and Admin server, as well as EtherShare Admin, now support password lengths up to 64 bytes
TCP/IP SLP Printer driver for Mac OS 9 and Mac OS X
Benefits of HELIOS TCP/IP SLP Printer drivers:
Easy printer selection via SLP (similar to printer selection in the Apple Chooser)
Spooler feedback, PPD, fonts, status, errors, etc.
No temporary spool files
Faster print spooling via TCP/IP
Up to 3 times faster than AppleTalk-PAP printing (see HELIOS Software News 09-02)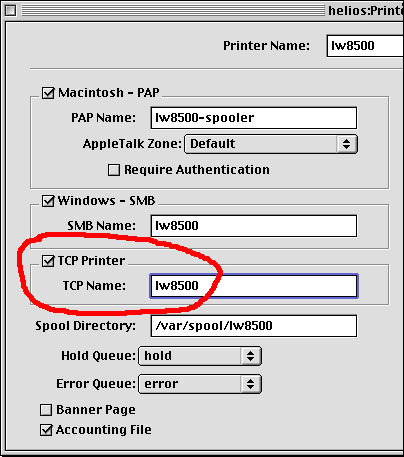 Exporting a printer queue for TCP/IP (EtherShare Admin)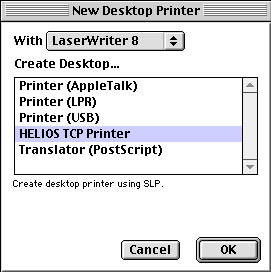 Creating a HELIOS TCP desktop printer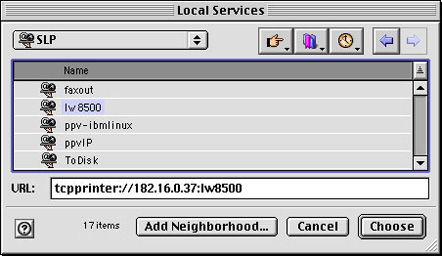 Printer Chooser via TCP / IP SLP
---