General 1)
Additional compatibility and enhancements of image file formats
OPI support of transparent PDF images / documents via EPSF low-resolution layout files
Optimized image conversion and tagging support using the "layout" command. More possible combinations of file formats conversion will now work
New "FilterInks" option for "layout" command to support filtering special color channels of a given file, e.g.: only Black, or only Black and Magenta
Updated the "imageconv.pl" script, which demonstrates the conversion capabilities including the used command lines
The "Touch" utility will not change the file modification time anymore
Image preview and conversion support for PSD / TIFF / PNG images with a transparent background
Additional options to preserve a primary color in images (PureBlack, PureGrays, PureWhite, PureCMY)
HELIOS ICC 4 support
DeviceLink ICC support
Grayscale ICC support
BPC (Black Point Compensation) which is a special treatment of black in conversions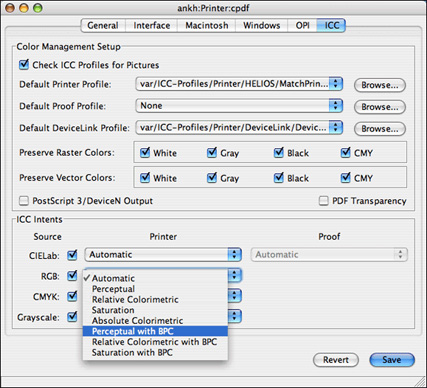 Defining ICC Intents in HELIOS Admin
Additional option to preserve a primary color in images (PureBlack, PureGrays, PureWhite, PureCMY), which can be changed irrespective of vector primary colors (PureVectorBlack, PureVectorGrays, PureVectorWhite, PureVectorCMY)
New HELIOS ICC Tagger application to tag ICC profiles to images (Mac and Windows)
Additional ICC profiles, ("sRGBv2" is now default RGB profile)
HELIOS Tool Server
HELIOS Tool Server is a three-component solution for automating (remote) client applications. It is comprised of:
Tool client application (installed with Base UB+)
Tool server application (installs on any workstation or server)
Included tools (installed with the tool server)

osxhtmlrender
Mac: Convert HTML to PDF utilizing Apple's WebKit technology
osxpdfrender
Mac: Create RGB bitmap previews using Mac OS X rendering technologies
osxpdfflatten
Mac: Flatten PDF documents by automating Adobe Acrobat 8.1
winpdfflatten
Win: Flatten PDF documents by automating Adobe Acrobat 8.1
osxapplescript
Mac: Launch a specified AppleScript
Image web preview generation
PNG previews from images

Photoshop path conversion to alpha channel
Anti-aliased clipping path
PNG preview from XPV documents

PDF documents
Including PDF transparencies
XPress documents
XPress 4, 5, 6 (Mac and Windows)
New: XPress 7 (Mac and Windows)
InDesign documents
InDesign 2, CS, CS2 (Mac and Windows)
New: CS3 (Mac and Windows)
PDF as image file format 1)
PDF is a very versatile and therefore ideal file format: it supports all major color spaces, ICC profiles, and any compression algorithms. In addition it allows …
… long-term image archiving

PDF will survive for many years

… OPI support for PDF images

Layouts and replacement of PDF images

… image conversion support

Convert any bitmap image format to PDF
Convert PDF images to any other image format
Script Server
Script Server administration is included in HELIOS Admin.
Script Server automated workflows via hot folder
PDF printing
PDF preflighting
Image conversion
ICC color conversion and tagging
Meta data (XMP, clipping path) modification
Image resolution fixing
Image preview creation
PDF flattening
Disk image creation via "mkisofs"
Script Server integration with HELIOS Tool Server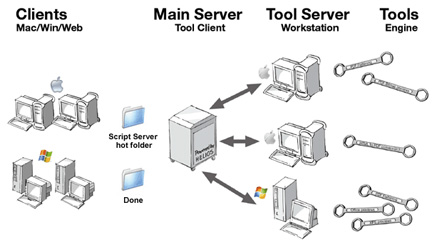 Integration with HELIOS WebShare
Remote image conversion
Remote PDF printing
Remote PDF proofing
(via PrintPreview shared folder)
CD024: New functions
ImageServer built-in RAW and DNG file format support
HELIOS XPV for XPress 8 (Mac & Windows) to allow document previews
HELIOS XPV for InDesign CS4 (Mac & Windows) to allow document previews
ImageServer tool to convert RAW to TIFF using a remote Mac OS X station using Tool Server. This is an alternative RAW format option
ImageServer Office previews of Word, Excel, and PowerPoint documents in WebShare, via remote automation of Office 2007 for Windows via Tool Server
---