The new VSA 3 comes with a new Linux version and a storage system with "Btrfs" based volumes in addition to the "ext4" support
The VSA storage system supports zero overhead snapshots, which means additional snapshots will not decrease the system performance. By default, the VSA will automatically create snapshots in regular intervals
Summary of the new VSA 3 capabilities:
Continuous data protection (regular snapshots)
Automatic file system snapshots every hour, day, week, month (configurable)
Automatic Mac/Windows volumes of yesterday's data (more is configurable)
Historical snapshots can be published on demand as Mac/Windows volumes
New HELIOS Configuration Assistant with advanced storage support
"Btrfs" and "ext4" file system support ("Btrfs" preferred for data volumes)
Based on Debian 10 Linux
The continuous data protection feature is all new for the HELIOS Virtual Server Appliance. It is easy to use by publishing historical data automatically via Mac/Windows volumes. It offers great performance with no limitation in the number of snapshots. It works with all existing storage systems from simple disks, RAIDs, or other enterprise storage solutions.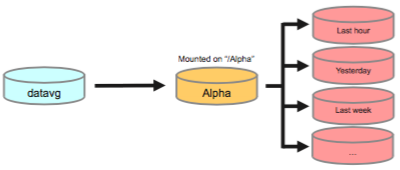 The new VSA 3 storage support brings operations safety to a new level. We are confident that everyone will benefit from it.