"Create PDF Server" for Windows
"Create PDF Server" is the most automated PDF generation server solution. It is scalable from small networks to load-balanced enterprise PDF generation.
Supported Acrobat Distiller versions
Supported Windows OS to run HELIOS "Create PDF Server"
Windows NT4 Workstation (SP 6)
Windows 2000 Professional
Windows XP Home / Professional

Create PDF Server console window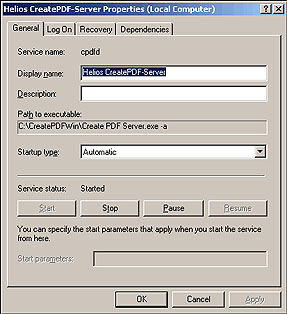 Windows "Server Properties" dialog
PDF 1.3 shading support
PDF HandShake 2.0 already supports PDF 1.3 shadings for composite PostScript 3 output. The upcoming feature will support OPI layout images from PDF files containing PDF 1.3 shadings.
In-RIP separation for "pdfprint" and "PDF Internet Printing"
PDF HandShake 2.1 now offers in-RIP separation of composite PDF documents, when printing via HELIOS "pdfprint" or "PDF Internet Printing".
Mac OS X & Mac OS 9 Acrobat Plug-In support
PDF HandShake Print plug-In
PDF HandShake "PlateControl" plug-In
PDF HandShake "Export for Imposition" plug-In
---