4 Before getting started
Support for protected PDF files
PDF HandShake checks the security settings in a PDF document. All documents with an unchecked "Require a password to open the document" option are supported, even if other security options are specified.
To find out whether a document is protected by security settings, use the Acrobat "Document Properties" window, as shown in Fig. 4.1.
"Printing" for the document must be allowed in high resolution. Otherwise, the menu items PDF HandShake Print and PDF HandShake Export will be grayed out, and OPI layout generation will be disabled for this particular file.
A password to open the document – if there is one – must be removed in this way as well. Otherwise the document cannot be handled by PDF HandShake.
Important:

Changing settings requires knowledge of the Security Password. Thus, for proper operation, refer to the Acrobat documentation.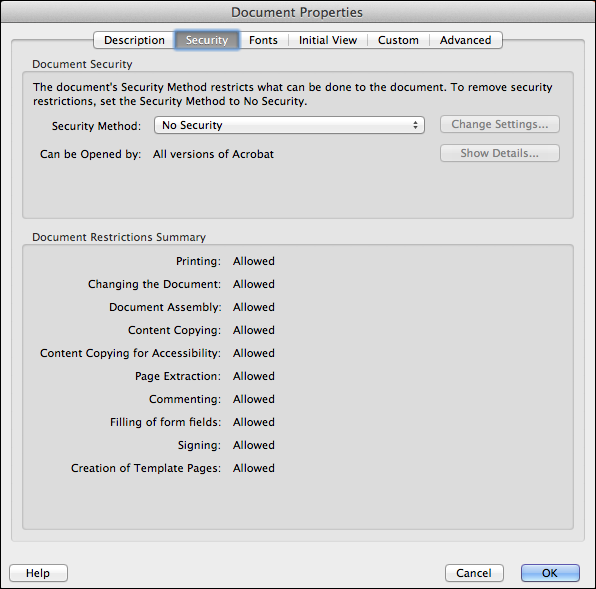 Fig. 4.1: Checking security options with Acrobat
Composite and separated PDFs
PDF HandShake can handle composite and pre-separated PDF documents.
Whether you print composite or separations from your original application (before generating PDF) depends on your workflow and requirements. For example, if you wish to include trapping information in your PDF file, you may be forced to print separations. This is due to the fact that some applications such as QuarkXPress do not include trapping information in the PostScript output if you print composite.
Pre-separated PDF documents are automatically recognized by the "pdfprint" command line program and by the PDF HandShake Acrobat plug-ins. When printing or exporting pre-separated documents with PDF HandShake, the following rules apply:
Print separations is enabled

The options In-RIP Separations, Convert Spot To Process, and Overprint Black are disabled

Color matching (PDF RGB/CMYK/Gray Profiles) is disabled.

The halftone settings for each color are applied to the pages with the corresponding plate colors
Pre-separated PDF documents are also recognized by ImageServer. They are handled as follows:
The "layout" and "pdftoeps" command line programs generate DCS files with default composite previews, which are raster based. The "layout" program creates single-file DCS-style layout images while the "pdftoeps" program creates DCS-1 multi-file images or DCS-2 single-file images. The plate file suffixes for CMYK will be .C, .M, .Y, and .K. Spot color plate files will be assigned other suffixes, namely letters so far unused, in alphabetical order. The suffix does not have any relation to the name of the spot color.

Printing separations and printing composite of documents containing placed layouts of pre-separated PDF files to an OPI printer queue (with image replacement) is fully supported for all output devices, except for PrintPreview.
Note:

Composite printing of documents containing placed layouts of pre-separated PDF files to a PrintPreview queue will lead to blank picture boxes in the preview.
Access to fonts
You may run PDF HandShake in demo mode. Then, our server fonts will only be available for OPI layout generation – they cannot be used for printing. The only exception is the "Courier" font, this font is always fully accessible. For background information about the different types of fonts and the way they are handled by PDF HandShake, please see A "About fonts".
About compressions
Compressed PDF documents and compressed images in PDF documents can be handled without problems. PDF HandShake recognizes all common modes of compression like JPEG, JPEG 2000, JBIG2, CCITT, and ZIP.
Note that if you are using ImageServer and convert a PDF file into EPSF (either high-resolution EPSF or layout), this new EPSF file may – depending on server settings – not be compressed.
About separations and spot colors
Spot colors in PDF files are recognized. PDF HandShake even offers a Spot To Process option that lets you convert all spot colors in a PDF file into CMYK, when printing separations. This option is available if you print directly from your server platform, using the "pdfprint" command or if you print from a Mac client using the HELIOS Acrobat plug-in.
About source profiles for PDF documents
PDF files can contain many color objects based on different device color spaces without ICC profile information. Therefore, for correct color matching, these PDF files should have one source profile for RGB objects and one source profile for CMYK objects in the document. Optionally, you can specify a source profile for Grayscale objects in the document, too. If you are using ImageServer you can, with the "Tagger" program, assign profiles to your PDF documents. Otherwise, you can define server-wide defaults using HELIOS Admin or tag PDF documents temporarily before printing. The HELIOS Acrobat plug-in provides pop-up menus for that purpose, and the "pdfprint" program also offers the required parameters (see 7.1 "pdfprint").
If you receive PDF files from a customer you may check whether these files already come with profile information that has been "tagged" to the files with ImageServer. If so, the profile names will be displayed in the Comments field of the Mac OS 9 "Info" box, or via "HELIOS Meta" on OS X and Windows clients. WebShare clients can get profile information from the comments line which is included in the sharepoint directory list. ImageServer users may check profile information with the "HELIOS ICC Tagger" program.
About color data transformation without OPI
If you are using PDF HandShake with EtherShare, PCShare or WebShare only, your server will behave as follows.
With ICC printer profile:

On principle, you activate the color matching module explicitly by selecting an ICC printer profile on the desired printer queue (this is described in 5.2.2 "Printer queue settings for PDF"). If you do so, all colors in your PDF files will be transformed into the printer's color space during printing.
Without printer profile:

If you do not select a printer profile, color data transformations might be performed "behind the scenes" – depending on whether you print composite or separations:
Printing composite:
All color spaces in your PDF files remain as they are. The color matching module will not interfere.

Printing separations:
Indirect color matching will be performed. Non-CMYK color spaces in your PDF files (like CIELab, RGB or Indexed colors) will automatically be transformed into CMYK. The server will use the "CMYK standard" for the color data transformations. By default, this standard is Euroscale – you can only change it to SWOP if you are using ImageServer.
Bilevel/Grayscale objects remain unchanged unless they are tagged with an ICC profile and the used printer queue has an ICC printer profile.
Note:

Do not remove the "ICC-Profiles" volume from the server, because this would disable indirect color matching.
PPD file check
PPD files must be selected carefully to guarantee correct output on the printing device. You can select a PPD file with HELIOS Admin when setting up a printer queue, and you can select a PPD file on your Mac client when choosing a printer. These two PPD files should be identical. The Acrobat plug-in checks this for you and will issue a warning if they are not identical.
Note:

The two PPD files are only checked by their name but not by their content. In order to guarantee best printing results ensure that PPD files with the same name do indeed have the same content. PPD files can be stored in the "Settings" volume (Settings > PPDs) in order to have them readily at hand.
Colors, color matching, proofing – basic concepts
Please read the chapter "Colors, color matching, proof printing – basic concepts" in the ImageServer manual.
Known restrictions
Page size problems when distilling EPSF files
We recommend using Create PDF Server for PDF generation. The Distiller may have problems recognizing the page size of EPSF input files. See Fig. 15.5 in 15 "Create PDF files using Acrobat Distiller" and the explanation about the Use Prologue.ps and Epilogue.ps option.
---
HELIOS Website
© 2020 HELIOS Software GmbH